CHMC CLUB EVENTS
CHMC affiliated clubs arrange their own calendars of regular, usually monthly, events for their members and guests. Vehicle displays where the general public are welcome are also organised. To enquire about regular club events please contact the relevant local club/s.
SCROLL DOWN for CHMC club EVENTS open to owners and vehicles from other clubs
MAY 4-6th 2018
The PRE-31 AUTUMN TOUR
FOR VETERAN & VINTAGE VEHICLES
Hosted by PARKES ANTIQUE MOTOR CLUB and supported by the National Trust of Australia (NSW)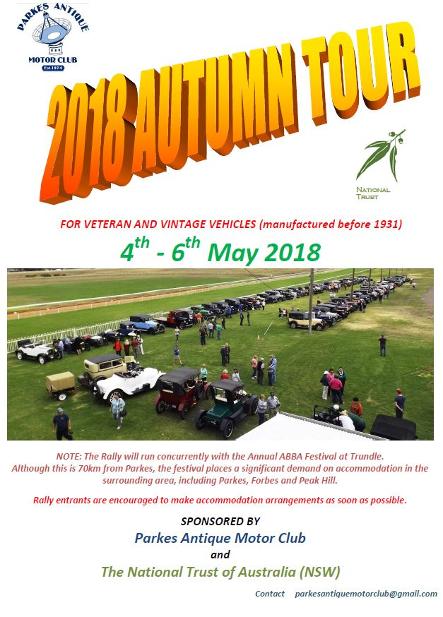 MARCH 30th - APRIL 2nd 2018 CHMC ANNUAL RALLY
for Heritage Veteran, Vintage, Post-Vintage and Post-WW2 Cars, Motorcycles and Commercial Vehicles made prior to 1988.
The Rally is open to members of Council Affiliated Clubs. Entries will close at 200 or January 31st 2018, whichever is reached first. Entries from members of non-CHMC clubs accepted after November 1st, 2017.
The Namoi Valley Antique Vehicle Club (NVAVC) will celebrate their 40th Anniversary in 2018 by hosting the CHMC's 48th Annual Rally in Narrabri - the Heart of the Northwest.