CHMC MEETINGS, FORUMS & WORKSHOPS
CHMC WORKSHOPS & FORUMS
"VERY PROFESSIONAL WORKSHOP LED BY EXPERIENCED PEOPLE IN THE HOBBY"...."A LOT OF VALUABLE TIPS AND INFORMATION"....."VERY RELEVANT TO OUR CLUBS AND WELL PRESENTED"
If your club would like to host a CHMC Workshops or Forum, or suggest a topic for future workshops or forums, please contact the CHMC Secretary
Council conducts these events either face-to-face and online, as required.
HVS & CVS REGISTRATION August 2022 Ourimbah
CHMC's HVS / CVS Registration Forum at Ourimbah. A fully booked out event with Club rep.s coming from the Illawarra, Northern Rivers, Central Coast, Hunter, New England, Central West and Sydney. Council was pleased to have Matt Cafe, TFNSW Manager Partnerships, and Steve Richards, NSW Police, discuss registration matters and developments, and answer delegates questions, along with our own Liaison Officer to TFNSW, Peter Wright. Lots of valuable and accurate information shared, notes from the Forum can be downloaded below.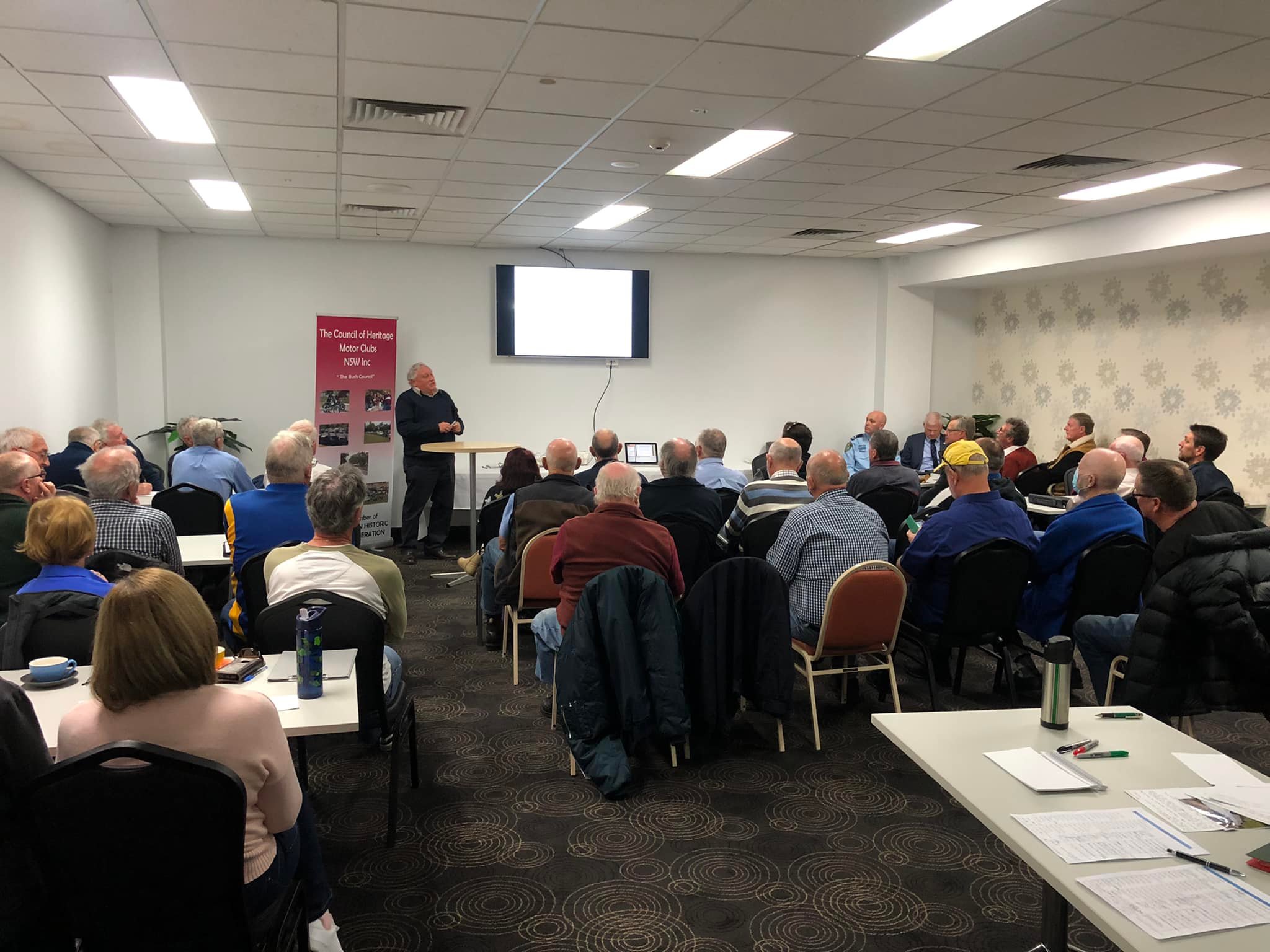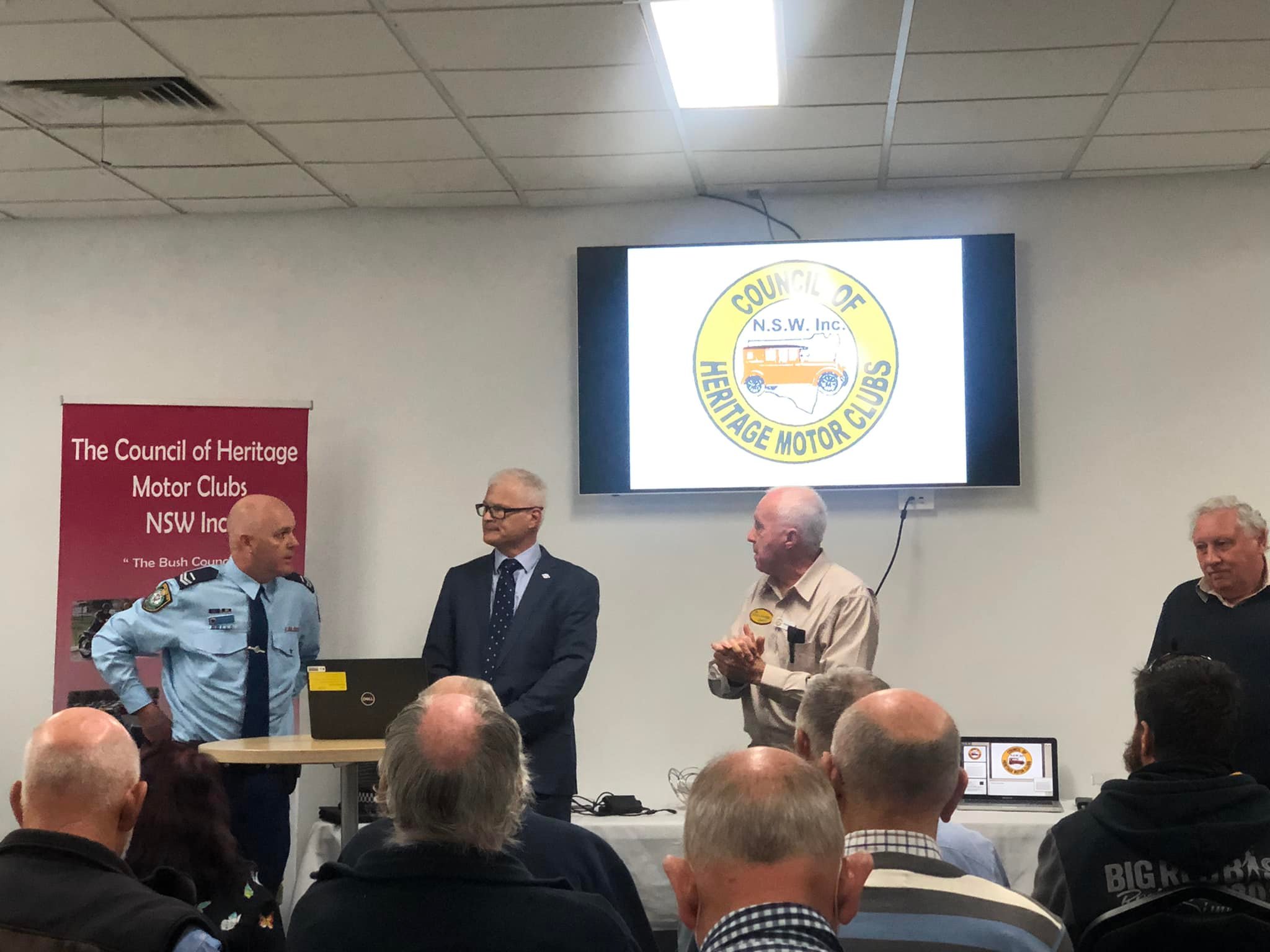 CHMC'S 2021 WORKSHOPS,

DESPITE cOVID,

WERE VERY SUCCESSFUL
CHMC CLUB GOVERNANCE / HVS & CVS WORKSHOPS
The Workshops covered the latest information for sound club management - covering Constitutions, General Management, Taxation; Effective Communications; and Managing Club Responsibilities for Historic Vehicle Registration and Classic Vehicle Registration, finished with a Q&A Session
Workshops were held at Cowra, Taree and Tamworth and presented by members of the CHMC Committee to representatives from CHMC Clubs and clubs applying for CHMC membership.
As with Council's previous information days the data provided and the discussions generated were invaluable to all clubs present. More workshops were planned for later in 2021, Covid unfortunately preventedthem taking place.
VIRTUAL HVS / CVS REGISTRATION online MEETINGS 2021
As there were many rumors and inaccuracies circulating in the hobby about the operation of the NSW Historic and Classic Vehicle Schemes, such as renewals and new rego.s whilst the State was under Covid Health Orders, CHMC arranged several online meetings in September at which the facts, as advised directly to Council by TfNSW/RMS authorities, were presented.
Discussions covered the appropriate processes for renewing HVS and CVS registrations under the Lockdown Health Orders, and options for clubs seeking to hold vehicle inspection days with local Police cooperation. The information provided by Council's Vehicle Liaison Officer, Peter Wright, provided the club representatives with accurate instructions for their members, concerned about renewals and new registrations during Covid restrictions.
All CHMC club Secretaries were sent the HVS/CVS Registration meetings details and all online meetings were fully booked.