2022 CHMC ANNUAL RALLY -

the 51st "Bush Council" Annual Rally, April 1-4 2022, Singleton
ENTRIES ARE OPEN FOR ONE OF THE LONGEST RUNNING AND MOST ENJOYABLE ANNUAL RALLIES FOR HISTORIC VEHICLES HELD IN NSW.
The 2022 Rally is hosted by Newcastle District Vintage and Classic Car Club, a club with lots of history with this Rally - 2022 will be their fifth time hosting in the event's 51 years.
The Rally will be held at Singleton, and tours will take in the Luskintyre Aircraft Museum, the scenic Lower Hunter Valley and Hunter Wine Country. Judging of the CHMC Concours d'Elegance vehicles and the Mal Mason Shield for Clubs will take place on the Sunday morning.
Rally entries, due to limits at the Dinner venue, have been set at a maximum of 140 registrations or 280 persons, and a cut-off date for entries set at 31st January 2022.
Download Rally & accommodation details and Entry Form here
CHMC bulletin DINKUM OIL #15 - announcing the 2022 Annual CHMC Rally, Friday April 1st to Monday April 4th 2022, Singleton,NSW.
DINKUM OIL #14 - the very successful Annual CHMC Rally at Temora in April, Dinkum #14 here
DINKUM OIL #13 - HVS & CVS details from Council's meeting with TfNSW/RMS - RMS response to incorrect interpretations that have been circulating among some of the hobby. Plus good news for our antique tractor and industrial plant owning members. Dinkum Oil #13 here
DINKUM OIL #12 covers clarification from TfNSW/RMS on LICENSING REQUIREMENTS AND HVS Registration, Renewals and Vehicle operation. Read Dinkum Oil #12 online here
2021 CHMC ANNUAL RALLY - TEMORA
Photos from the Rally on our Gallery page and click on the Rally badge below to see the video on the CHMC's Facebook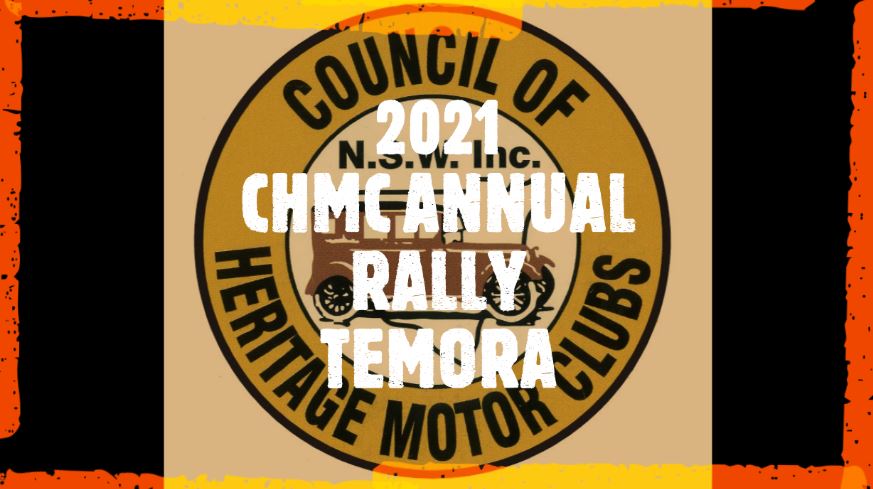 CHMC's Annual Rally for 2021 brought together over 100 historic vehicles from 24 affiliated clubs from across NSW. Oldest, a 1913 Little roadster, youngest, a 1988 Mitsubishi Magna, and lots from each decade in between.

A wonderful weekend of rallying and meeting up with old friends and talking historic cars with new ones. Excellently hosted by the Temora Antique Motor Club. Congratulations to the Mal Mason Shield winners - Bellbird Workers Automobile Restorers Club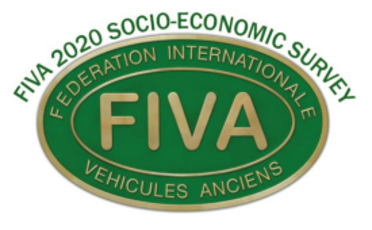 FIVA, the world federation for Historic Vehicles, has shared the results of its 2020/2021 international Socio-Economic Survey of almost 55,000 historic vehicle enthusiasts worldwide. The Council of Heritage Motor Clubs NSW supported the collection of data concerning Australia and thanks its affiliated clubs and their members for their participation in the Survey.
The results provide vital facts and figures to help us argue for the protection of our automotive heritage at a time of rapid change.
The Survey also revealed the challenges ahead that clubs in Australia nominated as most concerning - legislation and regulations, fuel futures, public perceptions, environmental considerations and future membership.
CHMC has prepared a summary for club magazine editors, and a slide presentation for clubs' discussions, from Australian survey responses. These have been sent out to all Council Affiliated Clubs.See our News page for more details
THE COUNCIL OF HERITAGE MOTOR CLUBS NSW (CHMC)

REPRESENTS and promotes the interests of HERITAGE, HISTORIC & CLASSIC VEHICLE CLUBS THROUGHOUT N.S.W.
Members of CHMC Affiliated Clubs own, preserve and restore cars, trucks, motorbikes, buses and tractors that are over 30 years old, i.e. heritage, historic or classic vehicles. They share one common purpose, to keep alive the sights and sounds of the vehicles and machines that were an integral part of the automotive and transport history of Australia.Some of those vehicles are more than 100 years old, others are from the 1980s, some are rare, some are unique, and many are everyday vehicles from our nation's past. All are examples of our country's automotive culture through time. Heritage and historic vehicles are not still here by accident, they survive because someone has cared for them through time, or someone has rescued them just in time.
CELEBRATING THE CENTENARY DECADE OF VINTAGE MOTOR VEHICLES
VINTAGE MOTOR VEHICLES WERE MANUFACTURED BETWEEN 1919 AND 1930. THIS ERA OF SPANS THE YEARS FROM THE END OF THE FIRST WORLD WAR TO THE GREAT DEPRESSION. THE YEAR 1930 SAW THE END OF AN ERA FOR MANY MOTOR CAR MANUFACTURERS AND DENOTES THE END OF THE VINTAGE PERIOD. Take a look at chmc's video celebrating vintage vehicles on our FAcebook page

"Is my car veteran, vintage, classic, historic or antique ?"
CONTENT INCLUDING TEXT, PHOTOS AND VIDEOS on this website are protected by Australian and international Copyright laws. If you wish to use text or images from this website please contact the CHMC Webmaster for details - All the content used on this website is owned by the CHMC or third parties with whom CHMC has negotiated permission for the right to use. For CHMC's copyright information click here