SOME VIRTUAL RALLIES, CONCOURS, A CAR MUSEUM AND SOME ONLINE READING TO WHILE AWAY LOCKDOWN
Overseas historic motoring events have been getting underway again after last year's cancellations and disruptions.
2021 CHMC ANNUAL RALLY AT TEMORA
See photos from the Rally on our Gallery page and the Rally video on the CHMC's Facebook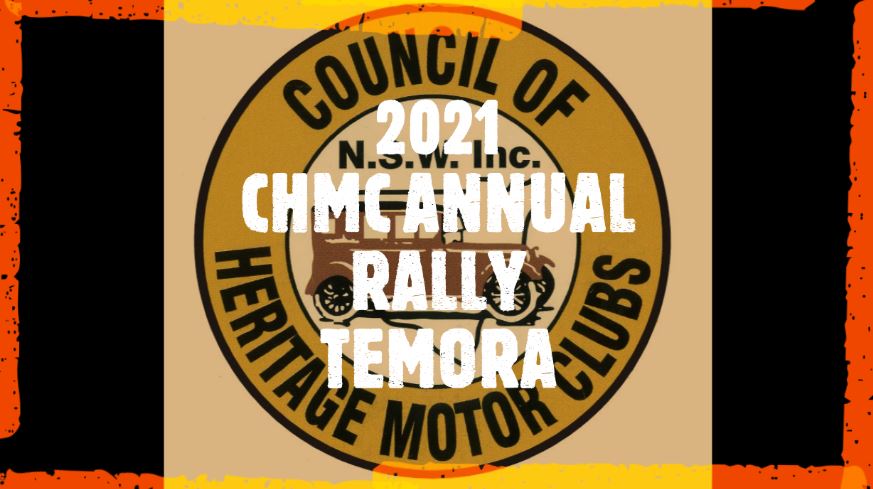 CHMC's Annual Rally for 2021 brought together over 100 historic vehicles from 24 affiliated clubs across NSW.
Oldest, a 1913 Little roadster, youngest, a 1988 Mitsubishi Magna, and lots from each decade in between.

A wonderful weekend of rallying and meeting up with old friends and talking historic cars with new ones
Excellently hosted by the Temora Antique Motor Club.
Congratulations to the Mal Mason Shield winners - Bellbird Workers Automobile Restorers Club
Message from the FIVA President
The FIVA General Committee, at our first physical General Committee meeting for a year, in Turin in mid-July 2021 discussed extensively that our leitmotiv is to uphold not only the culture of mobility, but also the social life that has characterised the automobile and motorcycle since their earliest days. Around no other industrial product is there such an active club life.
We can't ignore the fact that we – FIVA and its members – must put even more effort into lobbying. The transition from fossil to alternative fuels is irreversible: as FIVA we accept this, and indeed support the drive for cleaner air. But what we are working on is a unified positioning to gain global recognition for our sector and its great cultural, social and economic significance.
Without young people there is no future, which is why 'youth' will continue to be a spearhead of our policy. Most importantly, we are not just talking about young people, but embracing their values to help rejuvenate the image of the historic vehicle world.
It's evident that good communication has a key role. We've expanded our efforts in this regard considerably over the past year, including a record number of press releases to raise media awareness, and the hugely successful symposium in Bucharest in late July, titled 'Restoration: Art or Science?', illustrates another key part of our strategy. Protecting, preserving and promoting mobile heritage is what we all do, internationally and nationally, day in, day out.
CHMC bulletin DINKUM OIL #15 - announcing the 2022 Annual CHMC Rally, Friday April 1st to Monday April 4th 2022, Singleton,NSW.
DINKUM OIL #14 - the very successful Annual CHMC Rally at Temora in April, Dinkum #14 here
DINKUM OIL #13 - HVS & CVS details from Council's meeting with TfNSW/RMS - RMS response to incorrect interpretations that have been circulating among some of the hobby. Plus good news for our antique tractor and industrial plant owning members. Dinkum Oil #13 here
DINKUM OIL #12 covers clarification from TfNSW/RMS on LICENSING REQUIREMENTS AND HVS Registration, Renewals and Vehicle operation. Read Dinkum Oil #12 online here
RMS/TfNSW list of

OPTIONS, ACCESSORIES AND SAFETY EQUIPMENT for HVS

vehicles
(issued Nov 26 2020)
is a DRAFT ONLY, FOR DISCUSSION
The RMS asks that Clubs please view the List simply as a DISCUSSION DOCUMENT. TfNSW/RMS is reviewing aspects of the List following strong representations by the CHMC and a number of our clubs regarding some content that was disputable.
If Clubs wish to discuss the List further with the CHMC please contact the CHMC's Registration Liaison Officer, Peter Wright, or comment direct to the RMS/TfNSW at industryengagement@rms.nsw.gov.au
THE COUNCIL OF HERITAGE MOTOR CLUBS NSW (CHMC)

REPRESENTS and promotes the interests of HERITAGE, HISTORIC & CLASSIC VEHICLE CLUBS THROUGHOUT N.S.W.
Members of CHMC Affiliated Clubs own, preserve and restore cars, trucks, motorbikes, buses and tractors that are over 30 years old, i.e. heritage, historic or classic vehicles. They share one common purpose, to keep alive the sights and sounds of the vehicles and machines that were an integral part of the automotive and transport history of Australia.Some of those vehicles are more than 100 years old, others are from the 1980s, some are rare, some are unique, and many are everyday vehicles from our nation's past. All are examples of our country's automotive culture through time. Heritage and historic vehicles are not still here by accident, they survive because someone has cared for them through time, or someone has rescued them just in time.
CELEBRATING THE CENTENARY DECADE OF VINTAGE MOTOR VEHICLES
VINTAGE MOTOR VEHICLES WERE MANUFACTURED BETWEEN 1919 AND 1930. THIS ERA OF SPANS THE YEARS FROM THE END OF THE FIRST WORLD WAR TO THE GREAT DEPRESSION. THE YEAR 1930 SAW THE END OF AN ERA FOR MANY MOTOR CAR MANUFACTURERS AND DENOTES THE END OF THE VINTAGE PERIOD. Take a look at chmc's video celebrating vintage vehicles on our FAcebook page

"Is my car veteran, vintage, classic, historic or antique ?"
CONTENT INCLUDING TEXT, PHOTOS AND VIDEOS on this website are protected by Australian and international Copyright laws. If you wish to use text or images from this website please contact the CHMC Webmaster for details - All the content used on this website is owned by the CHMC or third parties with whom CHMC has negotiated permission for the right to use. For CHMC's copyright information click here