2023 CHMC ANNUAL RALLY - June Long Weekend - WAGGA WAGGA
HOSTED BY THE WAGGA WAGGA VETERAN AND VINTAGE MOTOR CLUB INC.





JUDGING FOR CONCOURS D'ELEGANCE, MAL MASON SHIELD, AND ALL CATEGORIES JUDGING WILL TAKE PLACE ON SUNDAY MORNING AT THE RANGE FUNCTION CENTRE BETWEEN 9AM AND 12 MIDDAY. GATES WILL OPEN AT 8AM.




WE LOOK FORWARD TO RENEWING FRIENDSHIPS AND MEETING NEW FOLK TO HELP US ENJOY THIS WEEKEND. WE ARE PLANNING TO MAKE THIS ANOTHER GREAT RALLY FOR YOUR ENJOYMENT. WWVVMC
2023 PRE-31 AUTUMN TOUR FOR VETERAN & VINTAGE VEHICLES
The Tour was an outstanding success with 130 vehicles and their owners and passengers hosted at Cowra by Dinosaur Drivers Register, Lachlan Valley Branch, members.
THE SIGHTS AND SCENERY OF THE CENTRAL WEST WERE AT THEIR AUTUMN BEST COLOURS, AND A UNIQUE CROSSING OF WYANGALA DAM BY ALL THE CARS A HIGHLIGHT THAT MADE NATIONAL TELEVISION COVERAGE. THE TOUR WAS SUPPORTED BY A GRANT FROM THE PAUL BUTLER BEQUEST FOR VETERAN & VINTAGE CARS AT THE NATIONAL TRUST. PHOTOS AND REPORTS OF THE TOUR ARE IN CHMC NSW'S FACEBOOK POSTS FOR MAY.
Historic and Classic Vehicles LOG BOOK & CLUB RUNS FACT SHEET.
This has been developed by TfNSW in close collaboration with organisations like the CHMC. It is hoped that this Fact Sheet will dispel the inaccurate information that has been circulated by some groups pertaining to Log Books and Club Runs. All NSW peak bodies representing historic and classic vehicles have agreed to the content of the Fact Sheet.
Clubs are requested to circulate the Fact Sheet to their membership without alteration. The Fact Sheet can be found online at TfNSW
Peter Wright,Registration Liaison for CHMC

DINKUM OIL #22 APRIL 2023. ANNUAL RALLY & AGM;

VEHICLE

REGISTRATION MATTERS

-

HISTORIC TRACTORS

; AREA CODES,

RETROFITTING SEAT BELTS

SUBMISSION; CHMC ADVOCACY RE. DRAFT VEHICLE

ADRS ON HYDROGEN FUEL AND ELECTRIC DRIVE TRAINS

; NRMA RE. INSURANCE.
DINKUM OIL #21

- CHMC ANNUAL RALLY, WAGGA WAGGA 2023; ANNUAL AFFILLIATION FEES AND CLUB CENSUS DUE;

WHO CAN DRIVE A CONDITIONALLY REGISTERED VEHICLE

?

EV CONVERSIONS OF HISTORIC VEHICLES

; CHMC AGM'S NOW IN OCTOBER.
DINKUM OIL#20 -
CHMC & TFNSW HISTORIC AND CLASSIC CAR INDUSTRY WORKING GROUP (HCCIWG) Update;
CHMC PROCEDURES AND DOCUMENTS USED FOR CVS SINCE 2017 COMMENDED BY TFNSW

and POLICE;
CHMC Updates for processing CVS applications and renewals;
CHMC WORKSHOPS AND ZOOM MEETINGS FOR REGISTRARS FOR 2ND HALF 2022
DINKUM OIL #19

BRIEF REPORT ON COUNCIL'S
2022 AGM
AND
TFNSW MATTERS RELATING TO HERITAGE AND CLASSIC VEHICLES
DINKUM OIL #18

ALL THE
RESULTS AND AWARDS FROM THE 2022 CHMC ANNUAL RALL

Y

AT SINGLETON
DINKUM OIL #17

-
COVERS

A SHORT UPDATE ON HVS AND CVS REGISTRATION;

ANNUAL RALLY AND AGM INFORMATION
DINKUM OIL #16 - INFO FROM THE

HISTORIC AND CLASSIC CAR INDUSTRY WORKING GROUP (H

CCIWG) MEETING WITH TFNSW; A NEW CHMC SECRETARY AND NEW POSTAL ADDRESS
DINKUM OIL #13 -

HVS & CVS details

from Council's meeting with
TfNSW/RMS

- RMS RESPONSE TO INCORRECT INTERPRETATIONS

that have been circulating among some of the hobby. Plus

good news

for our

antique tractor and industrial plant owning members.
Read all the previous Dinkum Oil's HERE
CONCERNED ABOUT THE FUTURE FOR HISTORIC VEHICLES?
CHMC monitors developments, trends and issues that affect the future of historic vehicles and their operation. Our contacts, in Australia and internationally, include peak bodies in historic motoring, heritage organisations and government agencies, and through them we obtain factual and reliable information and have opportunities to advocate for the future of historic vehicles.
OPERATING HISTORIC VEHICLES IN A TIME OF ENVIRONMENTAL CHANGE. Have you read the FIVA Environmental Guide, a positive approach towards environmental protection and practical support for environmentally conscious use of historic vehicles.
ELECTRIC DRIVE CONVERSIONS OF HISTORIC VEHICLES. Have you read:
e-FUELS FOR HISTORIC VEHICLES? the FIVA Working Group on eFuels monitored successful tests of e-Fuels in vehicles aged from 1901 to the 1970s including a 1922 Aston Martin in the Centenary 2022 Gran Prix; a 1936 Aston Martin raced at the GP Nuvolar; and a VW T1 bus that toured 3,500kms on the 2022 Olympia Rally. Conclusion – "e-Fuel seems to work and did not harm historic vehicles ". A 1901 Mors and 1904 Covert completed the 2022 London-Brighton without an problem on e-Fuel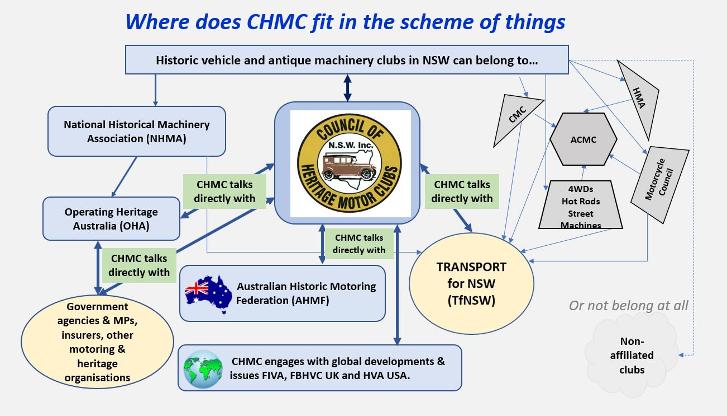 THE COUNCIL OF HERITAGE MOTOR CLUBS NSW (CHMC)

REPRESENTS AND PROMOTES THE INTERESTS OF HERITAGE, HISTORIC & CLASSIC VEHICLE and MAchinery CLUBS THROUGHOUT N.S.W.
Members of CHMC Affiliated Clubs own, preserve and restore cars, trucks, motorbikes, buses and tractors that are over 30 years old, i.e. heritage, historic or classic vehicles.
They share a common purpose, to keep alive the sights and sounds of the vehicles and machines that were an integral part of the automotive and transport history of Australia.
Some of their vehicles are more than 100 years old, others are from the 1990s, some are rare, some are unique, and many are everyday vehicles from our nation's past. All are examples of our country's automotive culture and history.
Heritage and historic vehicles are not still here by accident, they survive because someone has cared for them through time, or someone has rescued them just in time.
CONTENT INCLUDING TEXT, PHOTOS AND VIDEOS on this website are protected by Australian and international Copyright laws.
If you wish to use text or images from this website please contact the

CHMC Webmaster

for details - All the content used on this website is owned by the CHMC or third parties with whom CHMC has negotiated permission for the right to use.

For CHMC's copyright information

click here