CLASSIC VEHICLE SCHEME - CVS
In NSW the conditional registration of MODIFIED VEHICLES 30 years and older is referred to as the Classic Vehicle Scheme (CVS)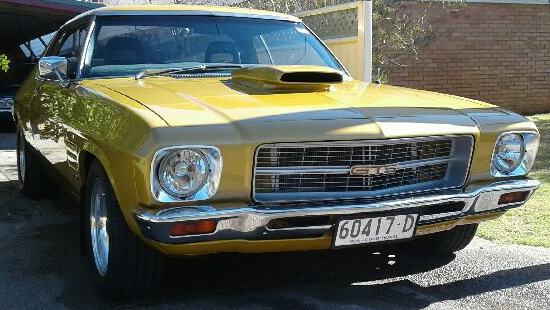 The CVS was developed in consultation with stakeholders from the car movement including the Council of Heritage Motor Clubs
The CHMC is an APPROVED ORGANISATION (AO) with TfNSW to process CVS registrations applications

from members of its affiliated clubs.

CHMC remains committed to the preservation of "Day One" and authentic vehicles and the Historic Vehicle Scheme (HVS) and participates in CVS for the benefit of clubs members with vehicles that do not fit within the guidelines for HVS registration.
Management of the CVS requires that applications for CVS registration or renewal must agreed to by an RMS Approved Organisation before processing by a Service NSW office. The Approved Organisation is the only contact for all CVS matters. Clubs or members enquiring direct to the RMS on CVS matters will be redirected to an Approved Organisation (AO), in this case the CHMC.

All CHMC clubs have current CVS information for the

processing of registration applications through the CHMC as the club's relevant Approved Organisation.

Not all CHMC clubs wish to or need to participate in the CVS - it is their choice.
Clubs must be current financial affiliated members of CHMC for CVS applications to be processed and members applying for CVS must be current financial members of a CHMC affiliated club.
Enquiries regarding CVS through the CHMC can be directed to the CHMC RMS Liaison Officer or the Assistant Secretary
NOTE 1: DEFINITION OF A CLASSIC VEHICLE

FOR cvs rEGISTRATION
FOR THE PURPOSES OF THE RMS CLASSIC VEHICLE SCHEME -

"a CLASSIC VEHICLE MEANS A VEHICLE WHICH HAS BEEN MODIFIED FROM ITS AUTHENTIC OR ORIGINAL CONDITION, BUT WHICH DOES NOT REQUIRE AN ENGINEER'S CERTIFICATION, OTHER THAN FOR REASONABLE OR SAFETY MODIFICATIONS, TO MAKE IT ELIGIBLE FOR REGISTRATION FOR PUBLIC ROAD USE".
IN GENERAL TERMS THIS MEANS THAT Chmc WILL NOT RECOMMEND HEAVILY MODIFIED VEHICLES, REPLICAS OR INDIVIDUALLY CONSTRUCTED VEHICLES FOR INCLUSION IN THE CVS. IT WILL LIMIT ITS APPROVAL TO VEHICLES WHICH ARE MODIFIED, AND WHICH MAY REQUIRE VSCCS CERTIFICATION

BUT WHICH MAINTAIN THE GENERAL APPEARANCE AND PERFORMANCE OF ORIGINAL AND AUTHENTIC VEHICLES OF THE SAME MODEL RUN.

THIS AMENDMENT IS REFLECTED IN THE CHMC'S CVS REGISTRATION APPLICATION DOCUMENTS.
NOTE 2:

CHMC DOES NOT CHARGE any FEES
FOR PROCESSING & APPROVINGCVS

REGISTRATION
APPLICATIONS
FROM MEMBERS OF ITS AFFILIATED CLUBS.
CVS REGISTRATION GUIDELINES AND APPLICATION FORMS