CHMC PUBLICATIONS & DOCUMENTS
CHMC publications include Council's Newsletter Bush Telegraph, CHMC Code of Practice, CHMC Handbook, CHMC Traveller's Pack, and Council's Facebook page and CHMC website.
Application forms and documents for Classic Vehicle Scheme REGISTRATION through CHMC as an RMS Approved Organisation are on our CVS page.
Sections of the CHMC Handbook and the CHMC Code of Practice are downloadable below.
"Bush Telegraph" Council's Newsletter is distributed regularly to affiliated clubs.
Current and Back Copies can be downloaded from the Bush Telegraph webpage
Council's Facebook page https://www.facebook.com/CHMCNSW/ provides opportunities for interactions between heritage automotive enthusiasts from Australia and overseas. It's a space to increase information to the public about our clubs and vehicles as well as a site for immediate general communications from Council.
CHMC Code of Practice
The Code of Practice was revised in 2016. It is anticipated that this Code will assist in addressing the issues involved in Public Liability Insurance and enhance the quality of involvement in heritage motoring activities experienced by participants and spectators.
The Code of Practice is copyright by the Council of Heritage Motor Clubs NSW Inc. Affiliated clubs of the CHMC NSW Inc. may copy, distribute and display the content of this work but non-affiliated organisations, groups and individuals must have prior written permission before copying or disseminating this work. For non.pdf formats please contact the CHMC Secretary.
CHMC Handbook
Copies of the CHMC Handbook and updates are distributed to local affiliated club secretaries.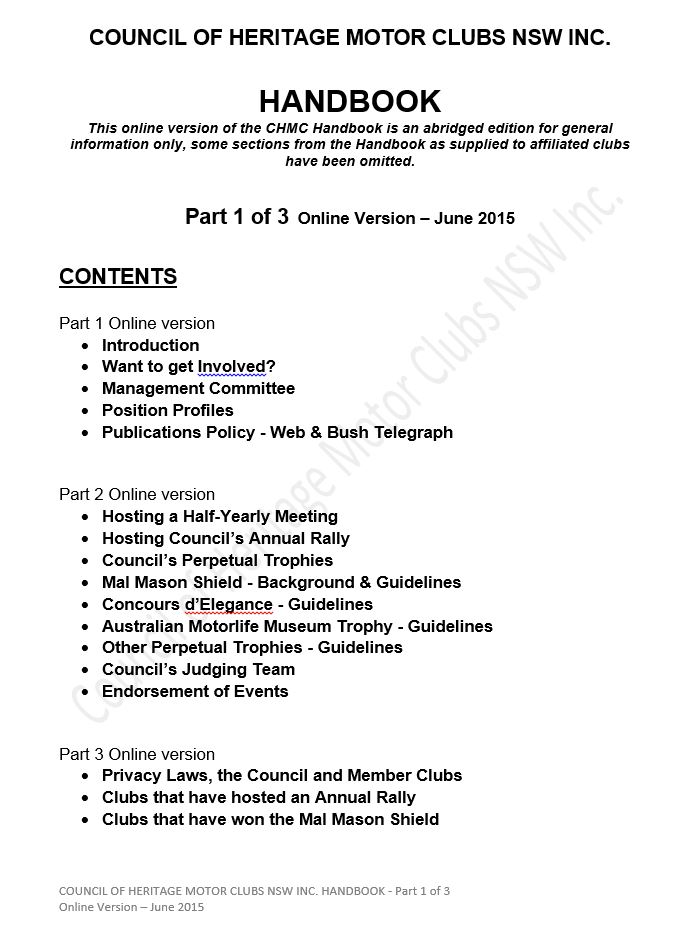 The Handbook covers: • Introduction • Want to get Involved? • Management Committee • Position Profiles • Publications Policy - Web & Bush Telegraph • Hosting a Half-Yearly Meeting • Hosting Council's Annual Rally • Council's Perpetual Trophies • Mal Mason Shield - Background & Guidelines • Concours d'Elegance - Guidelines • Australian Motorlife Museum Trophy - Guidelines • Other Perpetual Trophies - Guidelines • Council's Judging Team • Endorsement of Events • Privacy Laws, the Council and Member Clubs • Clubs that have hosted an Annual Rally • Clubs that have won the Mal Mason Shield
Sections of the Handbook are downloadable here -
CHMC Tra
veller's Pack, a directory of club members in almost all areas of NSW who have volunteered to provide assistance to members of CHMC affiliated clubs in the event of a breakdown or other vehicle emergency or incident when travelling out of their local area.
Contacts may offer assistance with repairs, towing, garaging and connections to local trades and services.
The Traveller's Pack is available to individual club members from their local affiliated club Secretary.