CHMC's ANNUAL RALLY
In 2020 the CHMC will be celebrating its 50TH YEAR of

representing the veteran, vintage, post-vintage, classic and historic motor clubs of regional New South Wales WITH A

Gala Dinner at the Half-Yearly Meeting weekend in the Hunter region, October 26th 2020.
Owing to the AHMF 2020 Motoring Festival occurring at the time CHMC's Annual Rally is usually held there is not a CHMC Annual Rally in 2020 so that our members can participate in the AHMF 2020. We look forward to CHMC Club members and their vehicles gathering in October 2020 to celebrate Council's 50th Anniversary.
The CHMC Annual Rally is held each year in a different NSW regional centre and hosted by the local CHMC club.
The Annual Rally is traditionally held at Easter, but the date may vary to suit the host club. The Rally a gathering of between 100 to 300 veteran, vintage, post-vintage, 1950s to 1980s vehicles and their owners and families for a long weekend of motoring, sight-seeing, vehicle displays and socialising.
Photos from CHMC Annual Rallies in our Gallery
Judging at the Annual Rally determines the awarding of the COUNCIL'S PERPETUAL TROPHIES to members and vehicles from CHMC Affiliated Clubs:
The Mal Mason Shield

Council's prestigious award for the Best Club Display at the Annual Rally

The Concours d'Elegance Trophy

, recognising the highest standard in vehicle restoration. CHMC winners include some of the most outstanding and widely applauded restorations in Australia. Sponsored by NRMA.

Best Veteran
Best Vintage
Best Post-Vintage
Best Fifties
Best Sixties
Best Seventies
Best Eighties
Best Motor Cycle
Best Commercial Vehicle
Most Original Vehicle.
2018 CHMC Annual Rally Mal Mason Shield Winners Parkes Antique Motor Club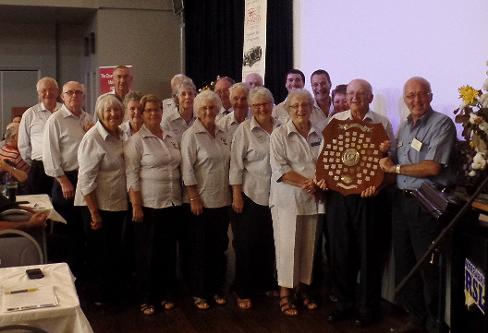 PAST CHMC ANNUAL RALLY HOST CLUBS
1971 Canberra Antique & Classic Motor Club
1972 Western District Antique Automobile Club, Dubbo
1973 Wagga Wagga Veteran & Vintage Motor Club
1974 Newcastle District Vintage Car Club
1975 CWV&VAC now Orange & District Antique Motor Club
1976 ACMC New England now Tamworth District Antique Motor Club
1977 Parkes Antique Motor Club
1978 Antique Car Club of Albury & Wodonga
1979 Illawarra Vintage Car Club Wollongong
1980 Canberra Antique & Classic Motor Club
1981 Newcastle District Vintage Car Club
1982 Western District Antique Automobile Club, Dubbo
1983 Tamworth District Antique Motor Club
1984 Wagga Wagga Veteran & Vintage Motor Club
1985 Hastings Automobile Restorers Club, Port Macquarie
1986 Central Coast Historic Car Club, Gosford
1987 Newcastle District Vintage Car Club
1988 Western District Antique Automobile Club, Dubbo
1989 Northern Rivers Veteran & Vintage Car Club, Lismore
1990 Namoi Valley Antique Vehicle Club, Narrabri
1991 Parkes Antique Motor Club
1992 Classic & Historic Automobile Club, Wagga Wagga
1993 Tamworth District Antique Motor Club
1994 CWV&VAC now Orange District Antique Motor Club
1995 Central Coast Antique & Classic Motor Club, Wyong
1996 Classic & Specialist Car Club, Armidale
1997 Newcastle Vintage Car Club
1998 Broken Hill Veteran & Vintage Car Club
1999 Hastings Automobile Restorers Club, Port Macquarie
2000 Wagga Wagga Veteran & Vintage Motor Club
2001 Parkes Antique Motor Club
2002 Wellington Antique Motor Club
2003 Gundagai Antique Motor Club
2004 Razorback Crankhandle Association Camden
2005 Inverell Antique Motor Club
2006 Veteran & Vintage Car Club of Goulburn
2007 Parkes Antique Motor Club
2008 Classic & Specialist Car Club, Armidale
2009Dubbo Antique Automobile Club, Dubbo
2010 Classic Motoring Club of Wagga Wagga
2011 Great Lakes Historic Automobile Club, Forster/Tuncurry