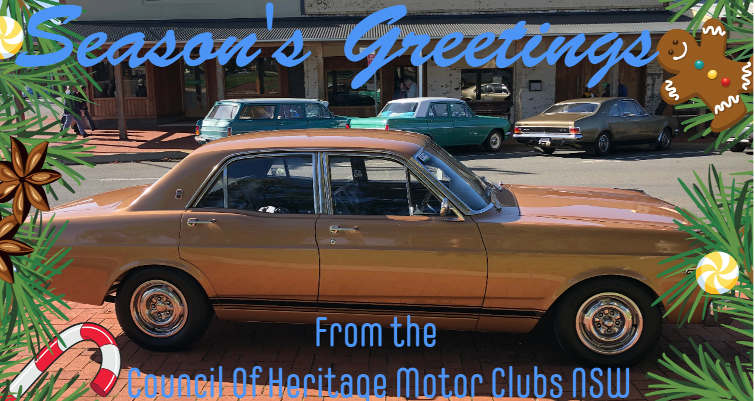 ON THIS HOME PAGE scroll down &YOU'LL FIND:
HVS & CVS REGISTRATION NEWS
TFNSW's DRIVE LITE for Historic and Classic vehicle owners

CHMC's

DINKUM OIL

THE FUTURE FOR HISTORIC VEHICLES?

CO2 calculator; E-fuels; EV

conversions

2023 & 2024 CHMC ANNUAL RALLIES; and 2023 & 2024 Pre-31 Tours
ROAD SAFETY & HISTORIC VEHICLES video
SPOKE 'N HUB - from AHMF, the national Federation's newsletter
WHERE DOES CHMC FIT in the scheme of things CHART
QUICK LINKS ROUND THE CHMC WEBSITE and to our FACEBOOK POSTS
Q. Who can drive a conditionally registered vehicle, e.g. a HVS or CVS registered vehicle?
A. To drive a historic or classic vehicle you need a vehicle licence appropriate to the vehicle type.
Any person who is the holder of the appropriate licence can legally drive a conditionally registered vehicle.
The driver DOES NOT have to be the operator/owner of the vehicle and DOES NOT have to be a member of a recognised historic vehicle club.
This also applies to drivers of vehicles on Log Book use and on Club Runs. The HVS & CVS Log Books are Vehicle Log Books, not Driver log books. (Ref. TFNSW - Historic vehicle: Registration, uses and equipment - Driver Licence ; see also Dinkum Oil # 21, Dec 2022
Latest issue of TFNSW's DRIVE LITE for Historic and Classic vehicle owners out now, covers
- Using your vehicle for functions
- Can I travel interstate with my historic vehicle?
- What are the rules for club name bars?

Historic and Classic Vehicles LOG BOOK & CLUB RUNS FACT SHEET. Developed by TfNSW in collaboration with the CHMC and other motoring organisations. This Fact Sheet contains the accurate information regarding use of Log Books using vehicles on Club Runs.
The Fact Sheet is online at TfNSW or download from our Registration information page

September 2023 DRIVE LITE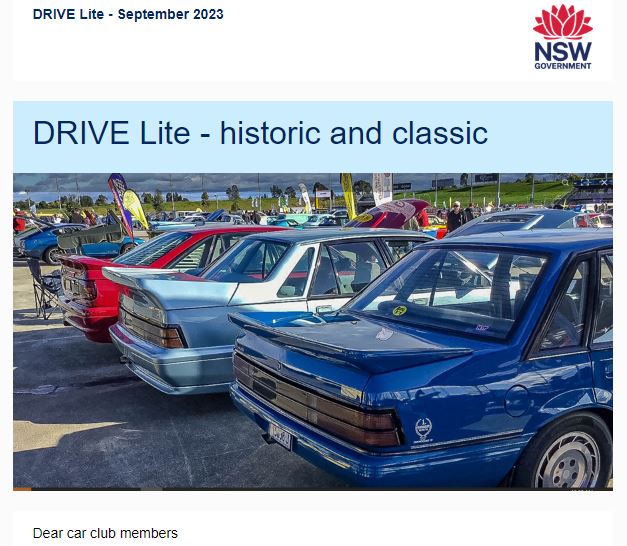 Shannon's Classic
A reminder about attending HVS and CVS events
Can a club have more than one 'Responsible Person'?
Do I need a Compliance Certificate for a modified vehicle?
An update on routine vehicle inspections that we conduct with NSW Police.
Signing a Historical Vehicle Declaration 1259 Form
Keep your Club's details updated with our Accreditation Team
Can a vehicle on Historic or Classic registration be transferred to another person?
Manual Pink Slips required for Historic or Classic registrations
Macarthur compliance blitz
July 2023 DRIVE LITE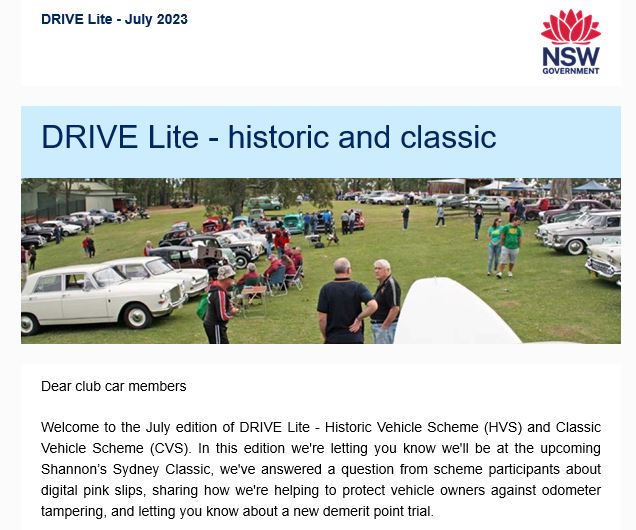 Answers questions for HVS & CVS scheme participants about:
Digital pink slips,
Original 1259 Forms
How TFNSW is helping to protect vehicle owners against odometer tampering,
Plus information about a new demerit point trial.
June 2023 DRIVE LITE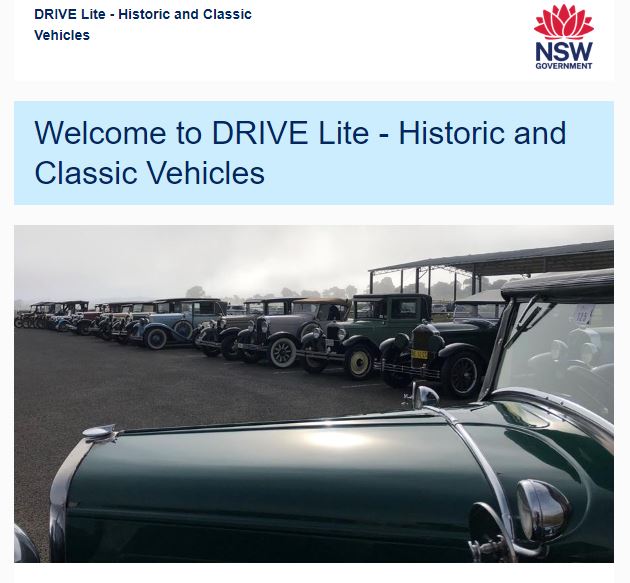 From TFNSW for club members on the Historic Vehicle (HVS) and Classic Vehicle (CVS) Schemes.The first issue, June 2023, features:
Registration Workshop with TFNSW staff hosted by Ballina Classic Vehicle Club
The 2023 Pre-31 Autumn Tour, an initiative of CHMC clubs in Central West NSW.

CHMC'S NEWSLETTER, DINKUM OIL IS EMAILED TO ALL MEMBER CLUBS FOR DISTRIBUTION TO THEIR MEMBERS OR PUBLISHING IN THEIR MAGAZINES. it is posted here 2 weeks later.
DINKUM OIL #25 nov 2023

"PINK SLIPS", LOG BOOKS, CVS POLICY REVISION, LOADS ON

HVS/CVS vehciles,

TRACTORS

; 2024 & 2025

RALLY AND AGM DATES

.
DINKUM OIL #24 july 2023

RESULTS FROM THE HIGHLY SUCCESSFUL 2023 CHMC ANNUAL RALLY HOSTED BY THE WAGGA WAGGA VETERAN & VINTAGE MOTOR CLUB
DINKUM OIL #23 may 2023

HOW MUCH CARBON DOES YOUR HISTORIC VEHICLE EMIT

? ON THE TABLE in DiNkum #23 FIND WHERE YOUR VEHICLE'S KM/YEAR INTERSECTS WITH ITS FUEL CONSUMPTION TO FIND CO2 EMITTED IN KG.
DINKUM OIL #22 APRIL 2023.

VEHICLE

REGISTRATION MATTERS

-

HISTORIC TRACTORS

; AREA CODES,

RETROFITTING SEAT BELTS

SUBMISSION; CHMC ADVOCACY RE. DRAFT VEHICLE

ADRS ON HYDROGEN FUEL AND ELECTRIC DRIVE TRAINS

; NRMA RE. EX-MV AND EX-SERVICE VEHICLE INSURANCE.
DINKUM OIL #21

-

WHO CAN DRIVE A CONDITIONALLY REGISTERED VEHICLE

?

EV CONVERSIONS OF HISTORIC VEHICLES

;
DINKUM OIL#20 -
CHMC & TFNSW WORKING GROUP (HCCIWG) UPDATE;
CHMC PROCEDURES AND DOCUMENTS USED FOR CVS SINCE 2017 COMMENDED BY TFNSW

AND NSW POLICE

;
CHMC UPDATES FOR CVS APPLICATIONS AND RENEWALS;
CHMC WORKSHOPS & ZOOM MEETINGS
Past Issues of Dinkum Oil can be read HERE
THE FUTURE FOR HISTORIC VEHICLES?
CHMC monitors issues, trends and developments that affect the future of historic vehicles and their operation. Our contacts, in Australia and internationally, include peak bodies in historic motoring, heritage and government agencies, through them we obtain factual and reliable information and have opportunities to advocate to them on the future of historic vehicles.
HOW MUCH CARBON DOES YOUR HISTORIC VEHICLE EMIT

?
oPERATING hERITAGE aUSTRALIA HAS SHARED WITH US A TABLE FOR CALCULATING WHERE YOUR VEHICLE'S KM/YEAR INTERSECTS WITH ITS FUEL CONSUMPTION TO FIND CO2 EMITTED IN KG.
On the table, also online in CHMC's DINKUM OIL #23 MAY 2023 find where your vehicle's km/year intersects with its fuel consumption to find CO2 emitted in kg. For example - based on the latest FIVA survey, Australian historic cars travel, on average, around 1200 km/yr and, if we assume a 14L/100km (20mpg) fuel consumption, then the amount of carbon dioxide produced is 504kg for the year.
OPERATING HISTORIC VEHICLES IN A TIME OF ENVIRONMENTAL CHANGE.
Have you read the FIVA Environmental Guide

,

a positive approach towards environmental protection and practical support for

environmentally conscious use of historic vehicles.
THE FUTURE OF HISTORIC VEHICLES.
E-FUELS FOR HISTORIC VEHICLES

?
The FIVA Working Group on eFuels monitored successful tests of e-Fuels in vehicles aged from 1901 to the 1970s, including a 1922 Aston Martin in the Centenary 2022 Gran Prix; a 1936 Aston Martin raced at the GP Nuvolar; and a VW T1 bus that toured 3,500kms on the 2022 Olympia Rally.
Conclusion – "e-Fuel seems to work and did not harm historic vehicles ".
A 1901 Mors and a 1904 Covert completed the 2022 London-Brighton without any problems on e-Fuel
ELECTRIC DRIVE CONVERSIONS OF HISTORIC VEHICLES
PEAK BODIES FOR HISTORIC MOTORING AROUND THE WORLD ADVISE THAT OWNERS CAREFULLY CONSIDER ALL ASPECTS OF THE TECHNICAL, COMPLIANCE & REGISTRATION, ENVIRONMENTAL AND HERITAGE IMPLICATIONS FOR A VEHICLE BEFORE UNDERTAKING A CONVERSION AND COMPROMISING THE HERITAGE/HISTORIC STATUS OF THEIR VEHICLE.
2024 CHMC ANNUAL RALLY
WILL BE HELD AT PARKES OVER THE EASTER WEEKEND, MARCH 29- APRIL 1.
HOSTED BY PARKES ANTIQUE MOTOR CLUB, A MEMBER OF THE CHMC NSW.
DETAILS AND ENTRY FORM ON CHMC'S EVENTS PAGE
2023 CHMC ANNUAL RALLY - JUNE LONG WEEKEND - WAGGA WAGGA
COUNCIL'S 2023 RALLY saw 180 HISTORIC VEHICLES from 1908 TO 1991, Cars, Motor Cycles and Commercial Vehicles
touring to COOLAMON, JUNEE and around the WAGGA WAGGA region.
The mass display of historic vehicles
on Sunday
drew a huge crowd of people to appreciate our motoring heritage.


Another excellent CHMC Annual Rally thanks to our Hosts, the Wagga Wagga Veteran & Vintage Motor Club, a CHMC Affiliated Club.
Plenty of photos and video from the 2023 Annual Rally on the CHMC Facebook Site
2024 PRE-31 AUTUMN TOUR - ORANGE - MAY 2-5 2024
Entry forms and Tour information are out now - see our Events Page for the entry Form etc.
2024 Tour Host is the CENTRAL TABLELANDS HISTORIC CAR CLUB, a member of the CHMC NSW
Pre-31 Autumn Tours are organised by CHMC member clubs in Central NSW -ODAMC Orange, PAMC Parkes, DAAC Dubbo, DDR Cowra, CTHCC Orange
2023 PRE-31 AUTUMN TOUR FOR VETERAN & VINTAGE VEHICLES
The Tour was an outstanding success for 130 vehicles and their owners and passengers hosted at Cowra by CHMC Affiliated Club, Dinosaur Drivers Register, Lachlan Valley branch. The sights and scenery of the Central West were at their Autumn best colours, and a unique crossing of Wyangala Dam by all the cars was a highlight that made national television coverage. The Tour was again supported by a grant from the Paul Butler Bequest for Veteran & Vintage cars via the National Trust. Photos and reports of the 2023 Pre-31 Tour are on the CHMC Facebook Site, scroll down to May 2023.
ROAD SAFETY ANd HISTORIC VEHICLES
a brilliant video from StreetSmarts QLD and the Veteran Car Club of Queensland.
VETERAN (AND VINTAGE) CARS ARE BUILT AND DRIVE DIFFERENTLY TO MOST CARS ON THE ROADS.
ALLOW SALLY FROM THE VETERAN CAR CLUB OF QUEENSLAND TO SHOW YOU HOW THEY OPERATE AMONG MODERN TRAFFIC IN THIS 1 MINUTE VIDEO.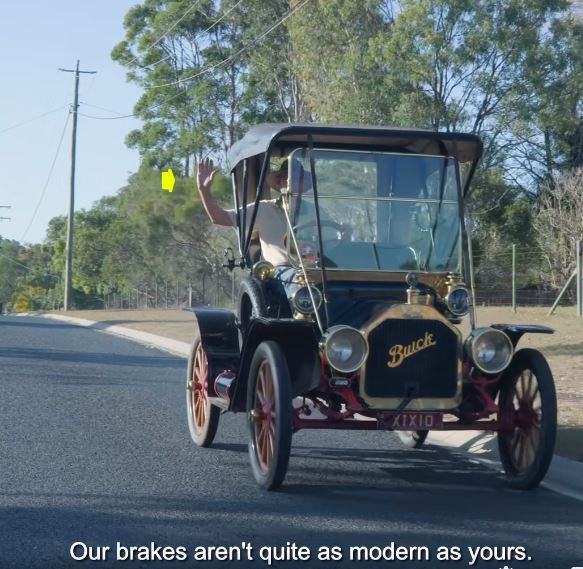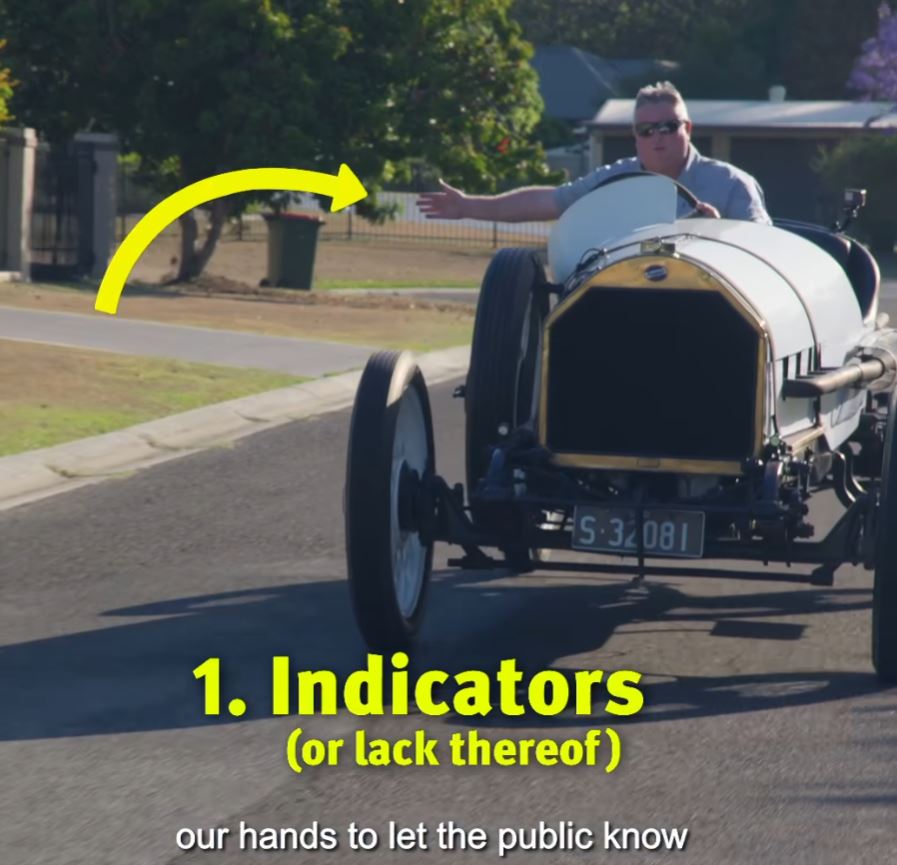 the AHMF's NEWSLETTER
The Australian Historic Motoring Federation Inc. (AHMF) is the national peak body for all historic motoring in Australia. Spoke'n'Hub Newsletters are distributed quarterly. Do you have hints or technical articles for future issues, please email your articles, photographs, etc to the Editor.. Email newsletter articles (Word & jpeg format - not PDF, to Christine at christine@ftrs.com.au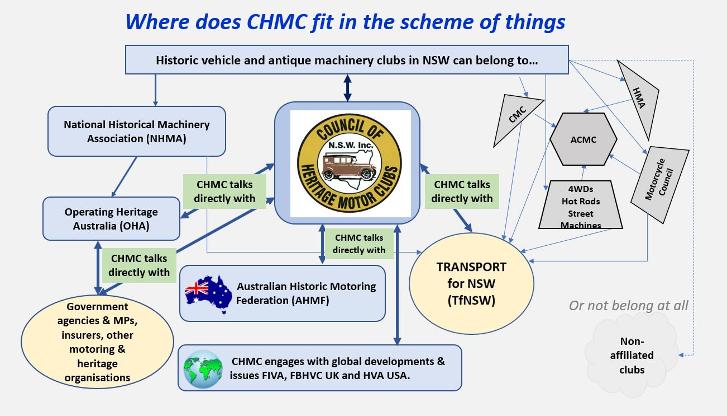 THE COUNCIL OF HERITAGE MOTOR CLUBS NSW (CHMC)

REPRESENTS AND PROMOTES HERITAGE, HISTORIC & CLASSIC VEHICLE and MAchinery CLUBS THROUGHOUT N.S.W.
Members of CHMC Affiliated Clubs own, preserve and restore cars, trucks, motorbikes, buses, tractors and antique machinery that is over 30 years old (and quite a few vehicles etc. that are original and well preserved "youngtimers" - i.e. just waiting till they are old enough to be classed as historic)
These members and their clubs share a common purpose, to keep alive the sights and sounds of the vehicles and machines that were an integral part of the automotive and transport history of Australia. Some of their vehicles are more than 100 years old, others are from the 1990s, some are rare, some are unique, and many are everyday vehicles from our nation's past. All are examples of our country's automotive culture and history.
Heritage and historic vehicles are not still here with us by accident, they survive because someone has cared for them through time, or someone has rescued them just in time.
CONTENT INCLUDING TEXT, PHOTOS AND VIDEOS on this website are protected by Australian and international Copyright laws.
If you wish to use text or images from this website please contact the

CHMC Webmaster

for details - All the content used on this website is owned by the CHMC or third parties with whom CHMC has negotiated permission for the right to use.

For CHMC's copyright information

click here