Nov. 17 2022 THE LATEST CATASTROPHIC FLOODS IN NSW HAVE LEFT FAMILIES, HOMES AND BUSINESSES DESTROYED ON A LEVEL WE HAVE NEVER SEEN BEFORE
Nov. 17 2022. CHMC NSW, for the second time this year, has directly supported the disaster relief and recovery efforts of the CWA NSW with another $1000 donation to help give flood-affected communities what they need now and for their reconstruction. Being local, CWA Branches in affected NSW areas are well placed to identify where help is most required and ascertain what forms of assistance are useful for their local community. CHMC's latest donation is its third to the CWA Fund in the last 18 months, but the frequency and scale of recent natural disasters to towns and farms in NSW, many of them home to CHMC affiliated clubs and their members, justifies Council's support.
With flooding at record levels so many have been severely impacted personally, socially and economically. Recovery will be long and challenging for individuals, families, businesses and communities, they need our support. The CWA NSW Disaster Relief Fund assists disaster recovery efforts at a local level. Already this year the CWA Fund has aided Northern Rivers flood victims with essential household items, food hampers, and outreach workers providing essential necessities and support to families.
CHMC encourages historic vehicle and antique machinery enthusiasts to also dig deep and donate
CWA NSW DISASTER RELIEF FUND (CLICK ON THE DONATE TAB) WWW.CWAOFNSW.ORG.AU
Totally inundated in the 2022 Lismore floods
this 1906 Ford Model K comes back to life
RECOVERING FLOOD AFFECTED HISTORIC VEHICLES AND MACHINERY
CHMC RECENTLY UPDATED ITS INFORMATION SHEE
T FOR WATER AFFECTED HISTORIC VEHICLES, TRACTORS AND ANTIQUE MACHINERY.
THESE ARE PROVIDED COPYRIGHT-FREE BY CHMC SO THEY CAN BE COPIED FOR THOSE WHO MOST NEED THIS INFORMATION.
2023 CHMC ANNUAL RALLY - June Long Weekend - WAGGA WAGGA
Hosted by the Wagga Wagga Veteran and Vintage Motor Club Inc.
Dear Motoring Enthusiasts
We extend a warm invitation to all heritage motoring enthusiasts to attend our 2023 Annual June Rally.
We are expecting a larger number of entrants than usual since this will be the CHMC Rally as well as our usual June
Rally. Due to this anticipated increase in entrants, most of our meals and catering will be in Wagga.

We hope to be well and truly "moved in" to our new club rooms and will be very keen to show them off to you all.

CHMC judging for Concours d'Elegance, Mal Mason Shield, and all category judging will take place on Sunday
morning at the Range Function Centre between 9am and 12 midday. Gates will open at 8am.
Our traditional Presentation Dinner will occur on Sunday evening at The Range Function Centre.
Further details will be in your rally pack.

We look forward to renewing friendships and meeting new folk to help us enjoy this weekend. We are planning to
make this another great rally for your enjoyment.
WWVVMC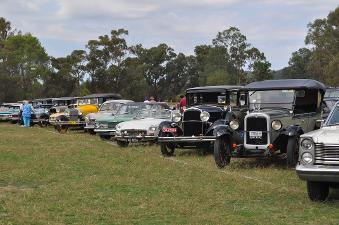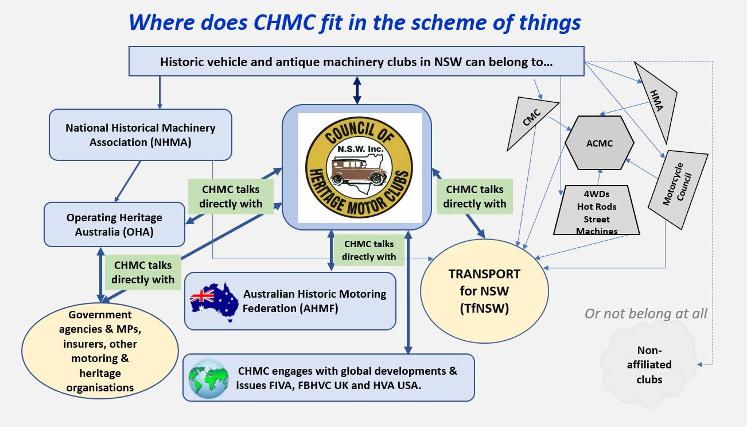 THE COUNCIL OF HERITAGE MOTOR CLUBS NSW (CHMC)

REPRESENTS AND PROMOTES THE INTERESTS OF HERITAGE, HISTORIC & CLASSIC VEHICLE and MAchinery CLUBS THROUGHOUT N.S.W.
Members of CHMC Affiliated Clubs own, preserve and restore cars, trucks, motorbikes, buses and tractors that are over 30 years old, i.e. heritage, historic or classic vehicles.
They share one common purpose, to keep alive the sights and sounds of the vehicles and machines that were an integral part of the automotive and transport history of Australia.
Some of those vehicles are more than 100 years old, others are from the 1980s, some are rare, some are unique, and many are everyday vehicles from our nation's past. All are examples of our country's automotive culture through time.
Heritage and historic vehicles are not still here by accident, they survive because someone has cared for them through time, or someone has rescued them just in time.

CHMC & TFNSW HISTORIC AND CLASSIC CAR INDUSTRY WORKING GROUP (HCCIWG) Update.

CHMC procedures and documents used for CVS since 2017 COMMENDED by TFNSW and POLICE.

CHMC Updates for processing CVS applications and renewals

CHMC Workshops and Zoom meetings for Registrars for 2nd half 2022 being finalised.
DINKUM OIL #19

Brief report on Council's 2022 AGM and TfNSW matters relating to Heritage and Classic Vehicles
DINKUM OIL #18

All the results and awards from the 2022 CHMC Annual Rally at Singleton
DINKUM OIL #17

-
COVERS

A SHORT UPDATE ON HVS AND CVS REGISTRATION

; ANNUAL RALLY AND AGM INFORMATION
DINKUM OIL #16 - INFO FROM THE HISTORIC AND CLASSIC CAR INDUSTRY WORKING GROUP (HCCIWG) MEETING WITH TFNSW; A NEW CHMC SECRETARY AND NEW POSTAL ADDRESS
DINKUM OIL #13 -

HVS & CVS details

from Council's meeting with
TfNSW/RMS -

RMS response to incorrect interpretations that have been circulating among some of the hobby. Plus

good news

for our

antique tractor and industrial plant owning members.
DINKUM OIL #12 covers clarification from

TfNSW/RMS

on

LICENSING REQUIREMENTS AND HVS

Registration, Renewals and Vehicle operation.
CONTENT INCLUDING TEXT, PHOTOS AND VIDEOS on this website are protected by Australian and international Copyright laws. If you wish to use text or images from this website please contact the

CHMC Webmaster

for details - All the content used on this website is owned by the CHMC or third parties with whom CHMC has negotiated permission for the right to use.

For CHMC's copyright information

click here