SUCCESSFUL HVS & CVS FORUM
A fully booked-out event with Club representatives coming from CHMC clubs in the Illawarra, Northern Rivers, Central Coast, Hunter, New England, Central West and Sydney. Council was delighted to have Matt Cafe, TFNSW Manager Partnerships, and Steve Richards, NSW Police, discuss conditional registration matters and developments, and answer delegates questions, along with Council's own Liaison Officer to TFNSW, Peter Wright. Lots of valuable and accurate information was shared, and some of the furphies, that unfortunately circulate in the wider hobby, were crushed. The CHMC (Bush Council) enjoys a cordial and long standing relationship with TfNSW and NSW Police and we were pleased that the representatives from TfNSW and the NSW Police were our very well received guests at the Forum. Informative and accurate notes from the Forum have been circulated to all CHMC Clubs' Secretaries for distribution to their members.

CHMC & TFNSW HISTORIC AND CLASSIC CAR INDUSTRY WORKING GROUP (HCCIWG) Update.

CHMC procedures and documents used for CVS since 2017 COMMENDED by TFNSW and POLICE.

CHMC Updates for processing CVS applications and renewals

CHMC Workshops and Zoom meetings for Registrars for 2nd half 2022 being finalised.
DINKUM OIL #19

Brief report on Council's 2022 AGM and TfNSW matters relating to Heritage and Classic Vehicles
DINKUM OIL #18

All the results and awards from the 2022 CHMC Annual Rally at Singleton 1-4 2022
DINKUM OIL #17

THE FIRST ISSUE OF
DINKUM FOR 2022

COVERS

A SHORT UPDATE ON HVS AND CVS REGISTRATION

; ANNUAL RALLY AND AGM INFORMATION
DINKUM OIL #16 - DECEMBER 2021. INFO FROM THE HISTORIC AND CLASSIC CAR INDUSTRY WORKING GROUP (HCCIWG) MEETING WITH TFNSW; A NEW CHMC SECRETARY AND NEW POSTAL ADDRESS
DINKUM OIL #13 -

HVS & CVS details

from Council's meeting with
TfNSW/RMS -

RMS response to incorrect interpretations that have been circulating among some of the hobby. Plus

good news

for our

antique tractor and industrial plant owning members.
DINKUM OIL #12 covers clarification from

TfNSW/RMS

on

LICENSING REQUIREMENTS AND HVS

Registration, Renewals and Vehicle operation.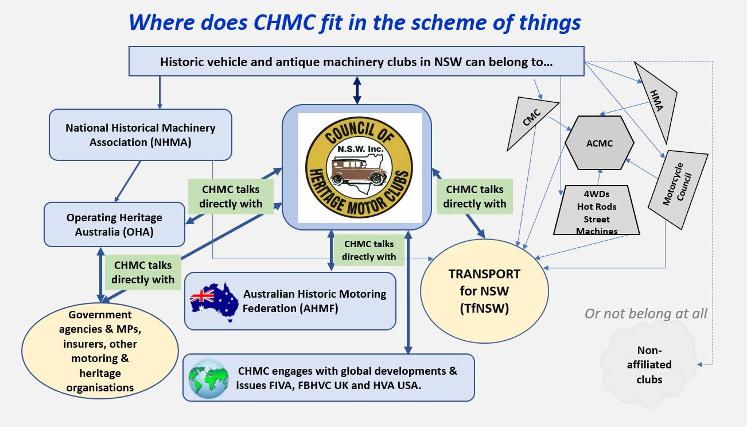 THE COUNCIL OF HERITAGE MOTOR CLUBS NSW (CHMC)

REPRESENTS AND PROMOTES THE INTERESTS OF HERITAGE, HISTORIC & CLASSIC VEHICLE and MAchinery CLUBS THROUGHOUT N.S.W.
Members of CHMC Affiliated Clubs own, preserve and restore cars, trucks, motorbikes, buses and tractors that are over 30 years old, i.e. heritage, historic or classic vehicles.
They share one common purpose, to keep alive the sights and sounds of the vehicles and machines that were an integral part of the automotive and transport history of Australia.
Some of those vehicles are more than 100 years old, others are from the 1980s, some are rare, some are unique, and many are everyday vehicles from our nation's past. All are examples of our country's automotive culture through time.
Heritage and historic vehicles are not still here by accident, they survive because someone has cared for them through time, or someone has rescued them just in time.
"Is my car veteran, vintage, classic, historic or antique ?"
CELEBRATING THE CENTENARY DECADE OF VINTAGE MOTOR VEHICLES
VINTAGE MOTOR VEHICLES WERE MANUFACTURED BETWEEN 1919 AND 1930. THIS ERA OF SPANS THE YEARS FROM THE END OF THE FIRST WORLD WAR TO THE GREAT DEPRESSION.
THE YEAR 1930 SAW THE END OF AN ERA FOR MANY MOTOR CAR MANUFACTURERS AND DENOTES THE END OF THE VINTAGE PERIOD. TAKE A LOOK AT CHMC'S VIDEO CELEBRATING VINTAGE VEHICLES ON

OUR FACEBOOK PAGE
CONTENT INCLUDING TEXT, PHOTOS AND VIDEOS on this website are protected by Australian and international Copyright laws. If you wish to use text or images from this website please contact the CHMC Webmaster for details - All the content used on this website is owned by the CHMC or third parties with whom CHMC has negotiated permission for the right to use. For CHMC's copyright information click here